14 September 2022
Credit Union Art Competition 2022- *CLOSED*
IT'S THAT TIME AGAIN!
The theme for this year's Credit Union Art Competition is 'It's A Wonderful World'. This year's theme gives participants the opportunity to present their own interpretation of the magic in the world and what must be done to keep it this way. The competition invites participants to create artworks that depict the theme and explore through their own unique lens the beauty and wonder of the World.
The competition is free to enter and there are no age limits to the competition. It is open to children aged 7 and under right through to 18 years and over. There is also an Additional Needs Category which encourages participants with physical or intellectual disabilities to submit entries in free expression without the restriction of the competition's official theme if they wish. This category also allows for group entries. All group entries will be judged together – while no age categories apply. 
This competition requires entrants to draw or paint posters using pencil, charcoal, pen or ink, felt tip marker, crayon, pastel, water colours, gouache, acrylics, oils, poster colour or collage.
To be considered for judging at any level, entries must follow the below briefs:
All entries must be submitted in either A3 (420 x 297mm) or A2 (594 x 420mm) and landscape orientation. Portrait oriented entries will be disqualified from adjudication.
Name, address, month and year of birth and other details (where applicable) must be clearly printed on the entry form and then attached to the back of the entry. Any entries bearing incomplete entry forms may not be considered.
The entry can be drawn or painted in pencil, charcoal, pen or ink, felt-tip markers, crayon, pastel, water colours, gouache, acrylics, oils, poster colour or collage. Prints done from a lino block, wood block or any other method may also be submitted. No computer aided design (CAD) may be entered. No pieces of art under glass, as we cannot be responsible for same.
Stage 1 and Stage 2 will be judged by local credit unions, who may enlist the help of local artists. Stage 3 – National Final, will be judged by three high profile artists who look for originality, creativity and inspiration throughout the pieces.
All entry forms must have a full name, date of birth, address (this can be the school's address) and signature from a teacher/parent/guardian (if under the age of 18) to be considered for judging. We would ask for entrants to refrain from putting names on the front or within the artwork.
The deadline is now CLOSED
Please see below images of completed valid forms from last year.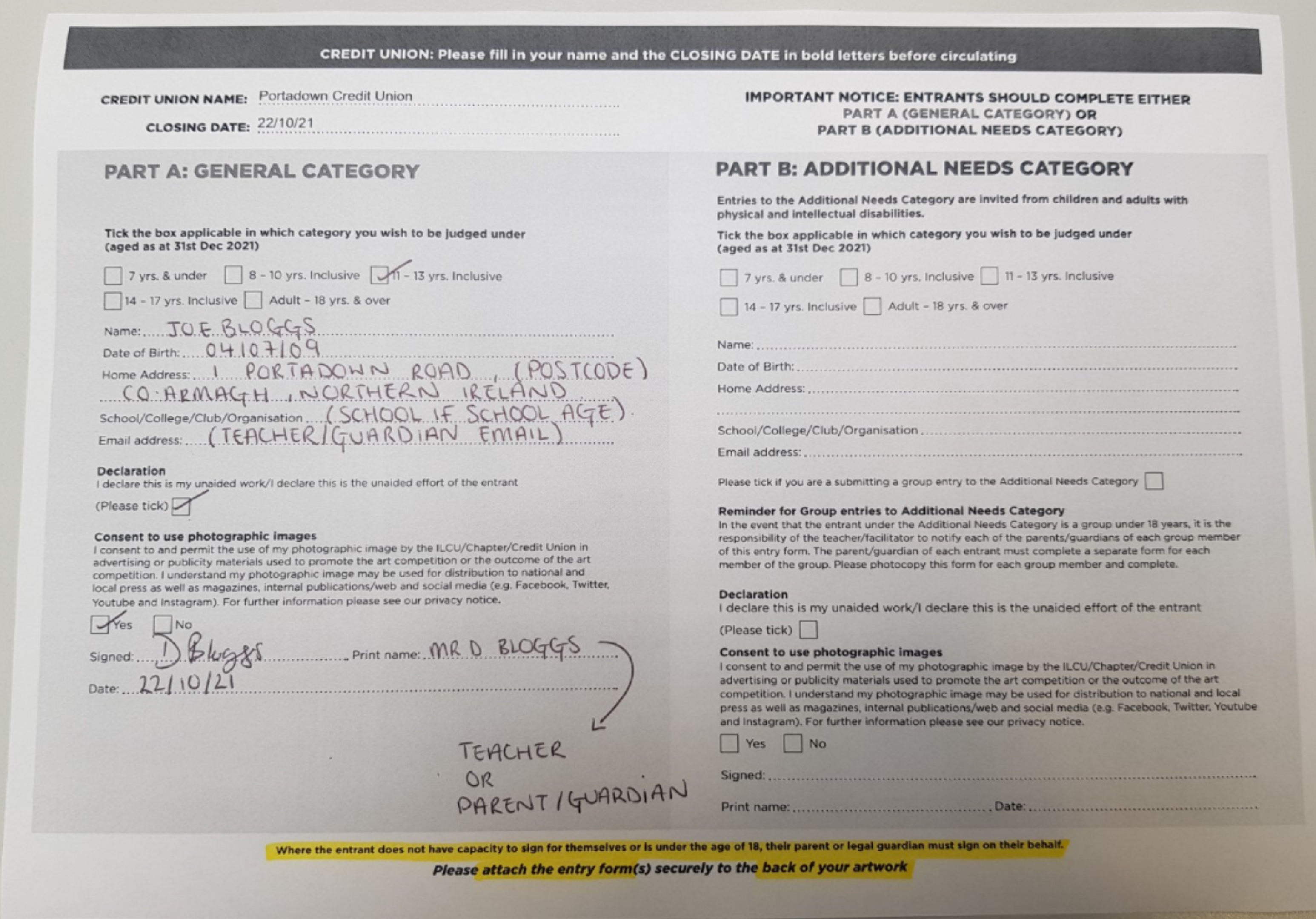 We look forward to seeing all the local talent!
Good luck!
Portadown Credit Union- Your local lender of choice
Back to News