Membership
Common Bond
All Credit Unions have a common bond – something which unites its members. Here at Portadown Credit Union our common bond is that our members must live or work in the Portadown area. Our common bond consists of the immediate Portadown area and the following town lands:
Annaghmore

Ballynagarrick, Ballydugan, Ballylough, Ballygargan, Ballymacanallen, Bleary, Ballytyrone and Ballyleny

Cranagill, Creenagh, Coragh, Clonmacash, Clare, Coose, Cornascreeb and Crewcatt

Derrylileagh, Derrycrew, Derrycaw, Drumaran, Drumhorc, Durmmiller, Derryhale, Drumnascamph, Derrymacfall, Derryall- Muckery, Derrinraw, Derrylard, Derryaugh and Derryburghas

Gallrock

Hacknahay

Kilmacanty, Knock, Knocknamuckl, Kernan, Knocknagore and Kilmore

Lisnamintry, Lylo, Lisnisky, Levalleglish, Loughgall, Lisavague, Lenaderg, Lisnafiffy and Loughans

Money, Mullaletragh, Mulladry, Mullavilly, Moyallan and Mullabrack

Richhill

Tamnafiglassan, Tamnaficarbet, Teagy, Tullylish and Tullyrain

Unshinagh Ln
Join Using Your Phone
We've created an intelligent and secure method for you to become a member directly through your mobile phone. All you have to do is download our Mobile App to take full advantage of joining as you go.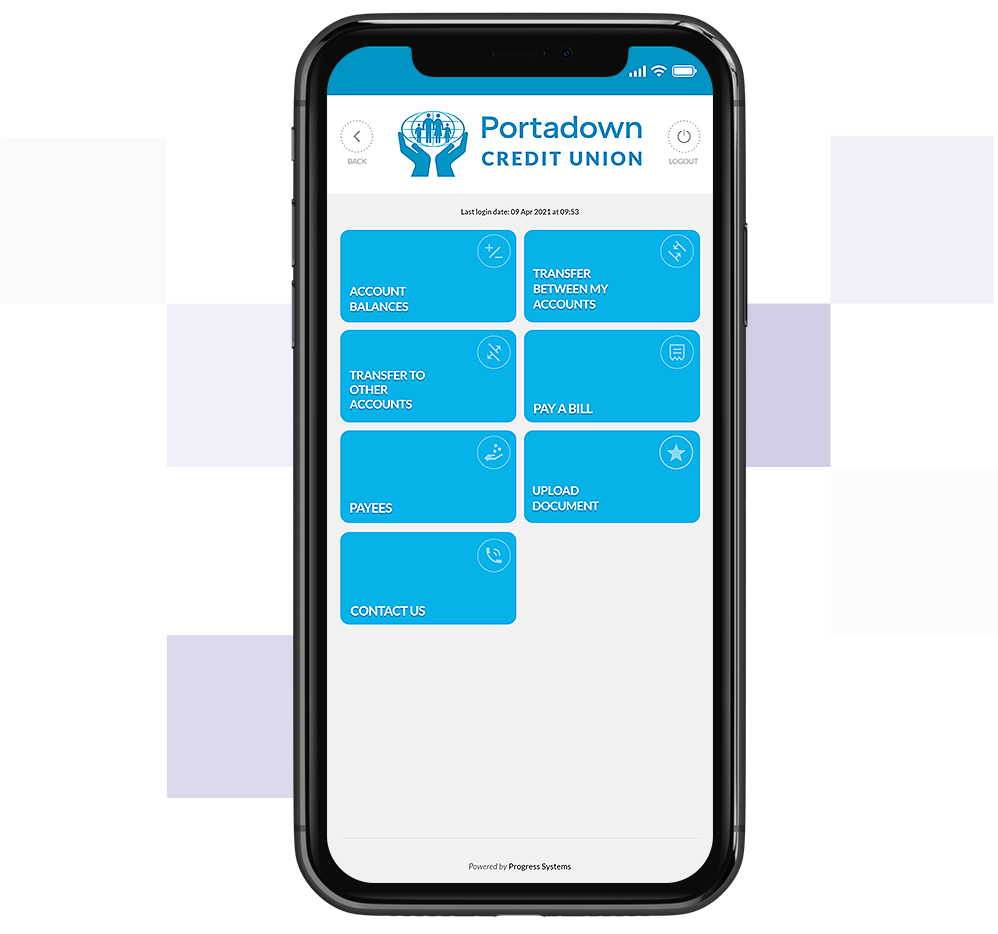 Secure Facial Verification
We use advanced biometric facial technology to capture and verify who you are. Simply take a quick selfie and you're done. This intuitive technology, ensures becoming a member is quicker than ever.
Reliable Identity Check
We've created a way for you to share proof of ID with us that's both secure and reliable. As you progress with your application, you will be given an opportunity to show your ID there and then. There's no waiting around.
Membership Fees
All adult members must pay a £1 affiliation fee annually and hold £5 savings in their account at all times. Once a new account has been created, a deposit of at least £6 must be made within 2 days, this can be done in the following ways:
Over the phone - You can make debit card payments over the phone by calling the office on (028) 38335104
In person at Portadown Credit Union- 26 Market Street, Portadown
Deposits can be made by cash, cheque or debit payment
Minor Accounts
If you are a parent/guardian, you can open a minor saving account for the child, if they're under the age of 16.
In order to open this account, you will need:
Child's birth certificate
Photographic ID of the individual opening the account
Proof of address (physical proof e.g. utility bill)
Minor accounts can only be open in office and they will mature into adult accounts when the child reaches the age of 16. At this time, the 16 year old will have sole access to the account and the money held in it.